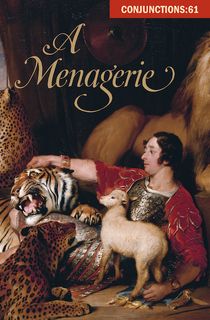 A Menagerie
Essays, fiction, and poetry that imagine the world of our fellow beings, animals. Cultural mythologies and pantheons are populated with snakes, monkeys, cats, jackals, whales: a cast of characters whose stories reveal how complex and wildly contradictory our species' relationship with other animals is. They're friends, enemies, tools, food. Descartes deliberated about whether animals have souls, deciding they didn't. Linnaeus cataloged them. Darwin connected us to them. Wild or tame, sinless or soulless, the animal is a chimera of shifting identities, both mundane and mysterious.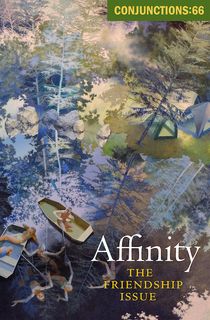 Affinity
New writings on the topic of friendship from Stephen O'Connor, Joyce Carol Oates, Robert Clark, Elizabeth Gaffney, Rick Moody and Darcey Steinke, and more.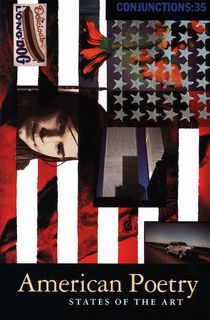 American Poetry
With work from the seventy-five poets who are the game-changing, bar-setting voices of our time first published in this volume, Conjunctions: 35, American Poetry is the definitive collection for the contemporary poetic landscape. Includes astonishing uncollected work from masters of the form, as well as breathtaking new ventures from risk takers such as Juliana Spahr and Kevin Young. Contributors include John Ashbery, Susan Wheeler, and James Tate.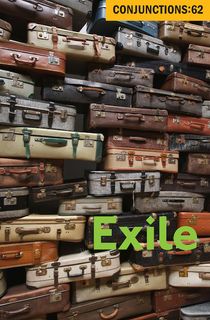 Exile
From the moment homes and homelands came into being, exile ensued. While narratives of exile share themes of banishment, loss and longing, they are as diverse as the human experience itself. Writers as different as Homer and Heinlein, Aeschylus and Camus addressed this subject. In The Satanic Verses, Salman Rushdie conceives of exile as "a dream of glorious return. Exile is a vision of revolution. It is an endless paradox: looking forward by always looking back." Its permutations know no bounds. The political dissident deported, or jailed, under house arrest; the defected spy; the classic prince banished by his royal father from the city gates; the communal exile of the diaspora. Through cutting-edge fiction, poetry and essays by emerging voices and contemporary masters, Conjunctions: 62, Exile explores the ramifications of expulsion and ostracism. Contributors include Edie Meidav, Peter Straub, Can Xue, H.G. Carrillo, Ales Steger, Maxine Chernoff and others.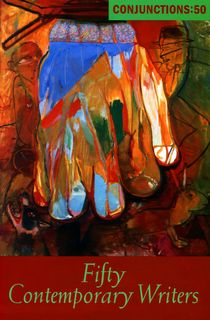 Fifty Contemporary Writers
This milestone fiftieth issue gathers together the many voices, forms, and styles that have defined the legendary literary journal since it was launched by Bradford Morrow in 1981. Established masters like William H. Gass, John Ashbery, Richard Powers, Edwidge Danticat, Rae Armantrout, Robert Coover, and Lyn Hejinian join rising stars such as Ben Marcus, Paul La Farge, Edie Meidav, and Peter Orner to create a landmark compendium of stunning new work. This very special anniversary celebration showcases fifty of our foremost fiction writers and poets.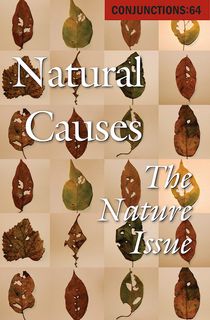 Natural Causes
This provocative collection of radical reinventions of the genre of nature writing, we encounter shrimp farms and spoonbills, maize husks and Austrian woods, tarantulas and eels, multitudinous winds that pollinate or desiccate—nature in all its myriad forms, right down to photons, neutrons, neutrinos, and, yes, even Godzilla, the Sasquatch, and some of nature's other fictive and folkloric monsters.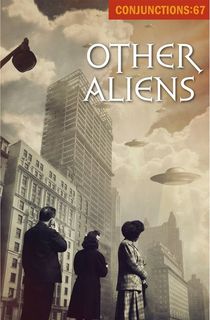 Other Aliens
New writings on our fear of—and fascination with—the "other" from Joyce Carol Oates, Peter Straub, Kelly Link, Jeffrey Ford, and more.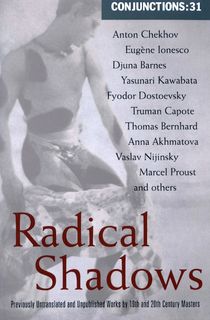 Radical Shadows
A collection of lost, forgotten, suppressed, rare, or unknown works by major literary writers from the late nineteenth century forward. From previously unpublished work by Djuna Barnes and Truman Capote (his earliest known story), to writing by Chekhov, Dostoevsky, Kawabata, Musil, and other world-class authors, the issue is a celebration both of the art of translation and of the breadth and depth of the many revelatory discoveries that can still be found in the historical literary archive.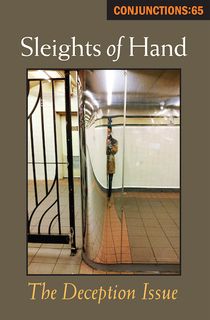 Sleights of Hand
Children deceive, as do grownups, and many are the moments when all of us even deceive ourselves. People of every age and stripe, whether rarely or often, dissimulate, bluff, and beguile. The writer who fabricates and populates worlds is a deceiver, as is the artist whose triumph is to trick the eye, to alter perception. The honest magician's livelihood is based on deception; so is the dishonest thief's. And consider the great Russian poet Marina Tsvetaeva who wrote, "A deception that elevates us is dearer than a legion of low truths," thus complicating the subject entirely. This special issue of Conjunctions gathers a wide spectrum of essays, fiction, and poetry on the classic subject of deception, exploring in original and thought-provoking ways a world in which truth is a most fragile, elaborate, and mercurial thing. Contributors include Edie Meidav, Terese Svoboda, Yannick Murphy, Paul Hoover, Bim Ramke, Eleni Sikelianos, Magdalena Zyzak, and many others.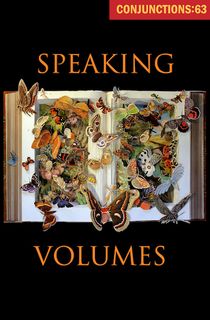 Speaking Volumes
Writing about writing itself and about the books that are home to the written word. A library of ideas about language and the book in all their forms, Speaking Volumes collects poetry, fiction, and narrative nonfiction on historic, forbidden, repurposed, mistranslated, imaginary, lost, and life-changing books—books of every ilk.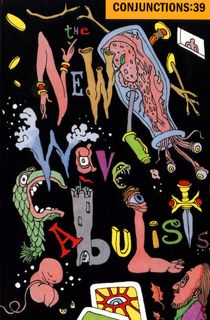 The New Wave Fabulists
Over the past three decades, the most adventurous practitioners of the literary arts of science fiction, fantasy, and horror have been transforming those genres into something all but unrecognizable. In Conjunctions' game-changing New Wave Fabulists issue, guest editor Peter Straub has put together an anthology of innovative literary reinventions of traditional "pulp" forms. Contributors range from Jonathan Lethem to Neil Gaiman, from John Crowley to Kelly Link, from Elizabeth Hand to China Miéville. Gary K. Wolfe and John Clute contribute essays on the ongoing evolution of genre, while the brilliant cartoonist Gahan Wilson has created the cover and original frontispieces for each story.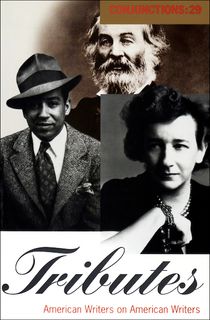 Tributes
Contemporary writers to pay homage to American literary masters who made something possible for them—whether that was the act of writing itself, writing a certain book, writing in a particular manner, or living in a way that was consonant with the act of writing. This is an anthology of personal enthusiasms, a colloquium Whitman might have seen as a progress of vistas. John Sayles offers an appreciation of Nelson Algren, Robert Creeley of Edwin Arlington Robinson, Nathaniel Mackey on Walt Whitman. And then there's Rick Moody on John Cheever, Ben Marcus on Dr. Seuss, Mona Simpson on Henry James, Ana Castillo on Anaïs Nin, Anne Waldman on Jack Kerouac, Lydia Davis on Edward Dahlberg. All in all, forty-five authors share compelling tales of their adopted literary parentage.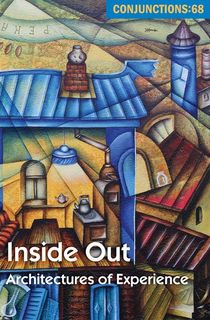 Inside Out
New writings—on rooms, buildings, and the spaces and structures that surround us—from Robert Coover, Joyce Carol Oates, Joanna Scott, and more.
Being Bodies
The human body is admired, displayed, and dissected in this eclectic collection of stories, poems, and essays from Rick Moody, Edward Carey, and more.